Hellenic Train expands the services of the Patras Suburban Railway by providing itineraries to Kato Achaia, introducing the possibility of issuing a new daily ticket (lasting 24 hours) for multiple routes.
The Patras Suburban Railway now connects the areas of Agios Vassilios and Kato Achaia with daily itineraries, contributing to the faster and comfortable movement of the passenger public of the wider area with the center of Patras, bypassing the city's traffic.
Passengers traveling on the Suburban Railway trains are served by buses launched by Hellenic Train at the Agios Vassilios-Kastellokampos Section and vice versa.
In addition, Hellenic Train offers Railway and Patras Suburban Railway card holders, fast and economical bus transfer to / from Rio Hospital and the University of Patras, commuting with Kastellokampos Railway Station, serving students, employees & visitors.
In order to board on the Hellenic Train buses, it is necessary to present avalidated ticket or card for unlimited routes of the Suburban Railway of Patras.       
The new itineraries and the map of the Patras Suburban Railway are posted in PDF files at the bottom of the page.
TICKETS AND CARD PRICES
 
Hellenic Train, wanting to offer quality and economical services to the passenger public, applies zone pricing as follows:
ZONE A1: Aghios Vassilios-Aghios Andreas
ZONE A: Aghios Vassilios-Antheias
ZONE B: Agyia-Kaminia
ZONE C: Vrachneika-Kato Achaia
A schematic representation of a complete pricing grid for the Suburban Railway of Patras can be found below: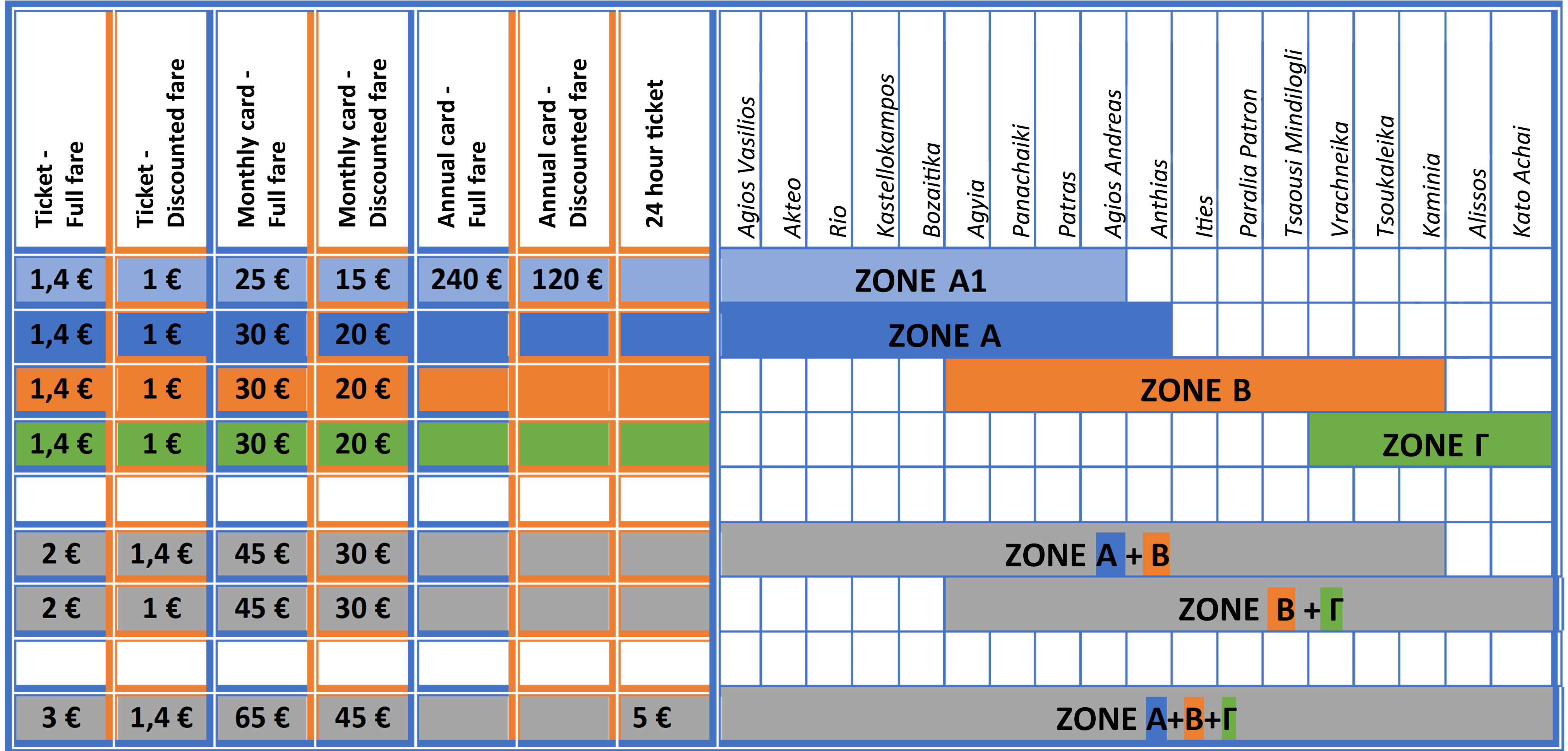 BENEFITS-DISCOUNTS
All categories of tickets and cards remain the same, with same regular and discounted prices that were valid until recently in the section Agios Vassilios - Agios Andreas.
Transfer by bus is provided to holders of a railway ticket or a card of the Patras Suburban Railway, to and from the Hospital-University.
An overall discount (per Zone) is provided for those listed below.
Children (from 4 to 12 years old), students, scholars, large families, large families, Young people (from 12 to 24 years old), passengers over 65 years old, disabled, over 67% disabled, as well as their attendants - when required, Military Personnel, Privates (without Boarding Status), holders of Rail Plus card, holders of FIP card.
Children up to 4 years old travel for free (with free ticket issuance).
Issuance of tickets and cards
For the issuance of unlimited travelling cards for the Patras Suburban Railway, or computerized tickets for trips to other cities, passengers can adress the ticket offices of Patras, Agios Andreas, Kato Achaia and Rio.
Passengers can purchase tickets for the Patras Suburban Railway from the ticket offices of Patras, Agios Andreas, Kato Achaia and Rio stations, as well as the Hellenic Train's partner stores, listed below:
| | | |
| --- | --- | --- |
| Location | Sales Point | Address |
| Agios Andreas | Kiosk | Korinthou 334 |
| Agios Andreas | Kiosk | Korinthou and Smirnis |
| Agios Andreas | Kiosk | Trion Navarhon and Maizonos |
| Agios Andreas | Kiosk | Vouth Square |
| Agios Andreas | Mini-market | Padanassis 39 |
| Agios Andreas | Kiosk | Agiou Ioannou Pratsika & Araxou |
| Agyia | Kiosk | Agiou Konstantinou 68 |
| Agyia | Mini-market | Kazantzaki 11 |
| Bozaitika | Mini-market | Digeni Akrita 34 |
| Bozaitika | Bakery-Candy shop | Panepistimiou & Nestoros 1 |
| Bozaitika | Gift Shop |  Highway Patras-Athens 158 |
| Panachaiki | Kiosk | Notara 2 |
| Papanastasiou | Mini-market | Papanastasiou 124 |
| Agios Vasileios | Mini-market | A. Papandreou 120 |
| Agios Vasileios | Mini-market | Agiou Vasileiou 14 |
| Kastelokampos | Student residence | Kastelokampos |
| Rio | Mini-market | Megalou Alexandrou 1 |
| Rio | Kiosk | near  the Town Hall |
| Rio | Kiosk | near the Hospital |
| Antheias | Kiosk | Antheias 90 |
| Antheias | Mini-market | Ierotheou 51 |
| Antheias | Kiosk | Antheias & Efdimou |
| Ities | Kiosk | Akti Dimeon 126 |
| Ities | Mini-market | Lefkas 10 |
| Patra beach | Mini-market | Martiou 25th, 2 |
| Patra beach | Mini-market | Martiou 25th, 13 |
| Mindilogli | Coffee Shop, Mini Market | Patras-Pyrgos Hihgway (Tsaousi) |
| Mindilogli | Restaurant Le Coq | Patras-Pyrgos Hihgway 3 |
| Vrachneika | Kiosk | Patras-Pyrgos Hihgway  446 |
| Vrachneika | Kiosk | Patras-Pyrgos Hihgway 225 |
| Vrachneika | busybee-SNACK BAR | Patras-Pyrgos Hihgway  177 |
| Tsoukaleika | Mini-market-Cafeteria | Patras-Pyrgos Hihgway  588 |
| Kaminia | Kiosk | Kaminia |
| Kaminia | Mini-market | Kaminia |
---